The excitement around Barack Obama coming to Halifax started in the summer when the event was first announced. Students got even more excited when Dalhousie and others started giving out free tickets to youth. I was one of the lucky ones (along with some friends) who won tickets from various draws and contests to attend the event.
We headed towards the Scotiabank Centre at 4:30pm, to go inside as soon as the doors open. The traffic and long lines around the venue hinted that we were not the only ones who decided to show up two hours early. We got in line with everyone else, on an exceptionally cold afternoon, slowly but surely moving closer to the event we had all been waiting for.
A few minutes later, we were all relieved to be warm inside but the space was already packed. People were lined up to grab snacks from vendors, chatting with friends and colleagues about how they managed to get a ticket and how excited they were to hear Obama speak.
There was a buzz in the overcrowded space, an undeniable anticipation to be in the presence of someone who means a great deal to a lot of people. There were older folks who remember the young leader who won the hearts of many about his message about unity, youth who grew up watching him as the President of the United States, and Black people—young and old—who admire him as a symbol of hope.
The main attraction
At 6pm, my friends and I parted ways as we headed towards our individual seats. After some opening remarks, Barack Obama was introduced and the familiar face everyone had been waiting for took the stage. I don't remember a single person who did not applaud for a little too long when he joined the moderator.
During the conversation, Obama addressed many issues, often moving the conversation towards engaging the youth. He stressed that he had never planned to be President, and advised young people interested in public administration to focus on what they want to do instead of what they want to be.
He encouraged the next generation to learn from the mistakes we are bound to make, saying that he learned a lot from his failures during his organizing days. When discussing political issues such as global affairs and foreign relations, he emphasized that we are all more alike than we are different.
He also addressed the pressing realities of climate change, but admitted that our circumstances are difficult and we all need to work together towards a solution. Obama did not shy away from criticizing how youth have chosen to engage with disagreements and advised young people to try and understand where others are coming from. He was keen on praising his wife when asked what it was like to be Mr. Michelle Obama, and spoke fondly of her throughout the conversation.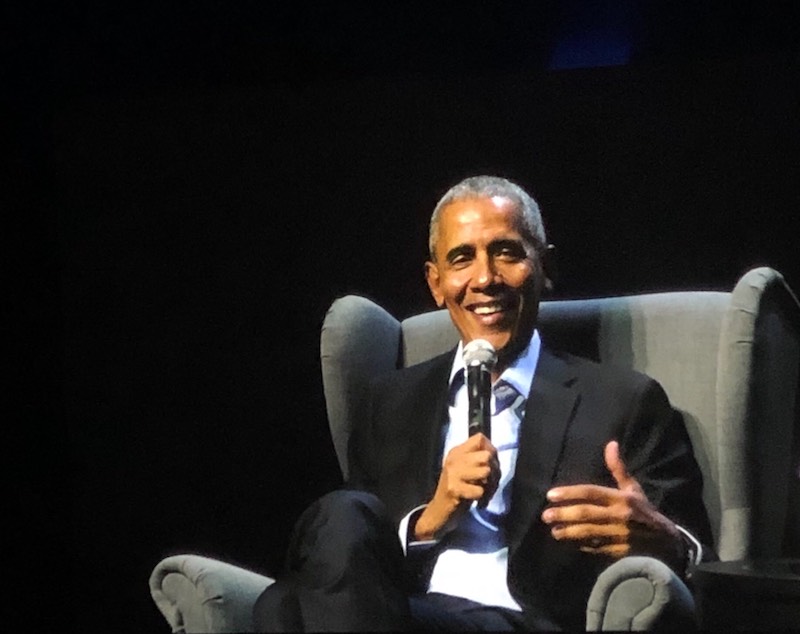 Inspiring multiple generations
A compelling part of the conversation was when he spoke about being a mixed kid from Hawaii with a "funny name," and if we were to line up six-year-olds in the '60s, he wouldn't have stood out as the future President of the United States. This resonated with many in the room who, because of their age, gender, race, place of origin, etc., have felt held back from doing something. Seeing a person on stage who defied the odds and broke many barriers was a hopeful moment for myself and so many others in the arena.
After the hour-long conversation and some closing remarks, the waiting area was buzzing again, this time from a crowd who had just been inspired. People were standing in line to take pictures by the banner, trying to capture the memories of this event in a photograph…and of course to post on social media.
Catching a taxi to leave the venue was a near-impossible task, but this time, walking out into the cold wasn't too bad. My friends and I still had our tickets in hand, the piece of paper that allowed us to enter the same room as Barack Obama and is now a keepsake from the wonderful conversation we witnessed.